here is part of the email walkers sent me this morning...
Dear Miss Crowder

Thank you for your recent email.

Unfortunately we are unable to help as we are not currently running any promotions for our Walkers crisps or Snacks and do not have products or vouchers to give out.

However, please log onto our website at www.walkers-crisps.co.uk for updates on forthcoming promotions which you may find of interest, thank you once again for taking the time to contact us.
BORING.
I once entered walkers invent a flavour competition. The prize was five thousand pounds and I knew there wouldn't, couldn't be a better flavour than mine so I was already spending my winnings in my head. Then that stupid breakfast flavour that tasted like farts won. I nearly packed it all in, stopped eating their yummy crisps but I am a big person and can overlook the massive mistake they made in robbing the world of an amazing new flavour but now this. gary lineker, you are letting me down.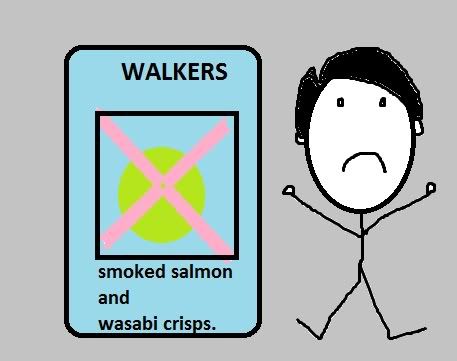 this is a picture of an ordinary person who would have loved my crisps but they don't exist so he is sad.